Images
A Case of Transit Internuclear Ophthalmoplegia Following a Motorcycle Accident
Department of Emergency and Critical Care Medicine, Tokyo Medical University Hachioji Medical Center, Tokyo, Japan
Corresponding author: Junya Tsurukiri, junya99@tokyo-med.ac.jp
DOI: 10.31662/jmaj.2022-0215
Received: December 2, 2022
Accepted: January 12, 2023
Advance Publication: March 13, 2023
Published: April 14, 2023
Cite this article as:
Suzuki T, Sano H, Nagura T, Moriya M, Tsurukiri J. A Case of Transit Internuclear Ophthalmoplegia Following a Motorcycle Accident. JMA J. 2023;6(2):211-213.
Key words: cerebral infarction, head trauma, stroke
A 49-year-old man complained of diplopia after a motorcycle accident. There was no evidence of anisocoria, convergence deficit, ptosis, or motor weakness (Figure 1). Head computed tomography revealed no intracranial hemorrhage (Figure 2). Subsequent magnetic resonance (MR) imaging revealed diffusion restriction on the dorsal pons without T2* shortening and vertebrobasilar artery abnormalities, leading to the diagnosis of internuclear ophthalmoplegia (INO) (Figure 3). The patient denied heredity thrombophilia, collagen disease, or systemic vasculitides. Three days later, the symptoms had spontaneously resolved. A lesion in the medial longitudinal fasciculus caused INO, and major mechanisms of INO are brainstem injury by shear stress due to head blow or secondary brainstem infarction caused by the vertebrobasilar artery perforating branches injury (i.e., compression or kinking) due to shearing force (1), (2), (3). Without the evidence of hemorrhage, brainstem ischemia was thought to be the possible mechanism in the present case and the factors predisposing to infarction were excluded.
Figure 1.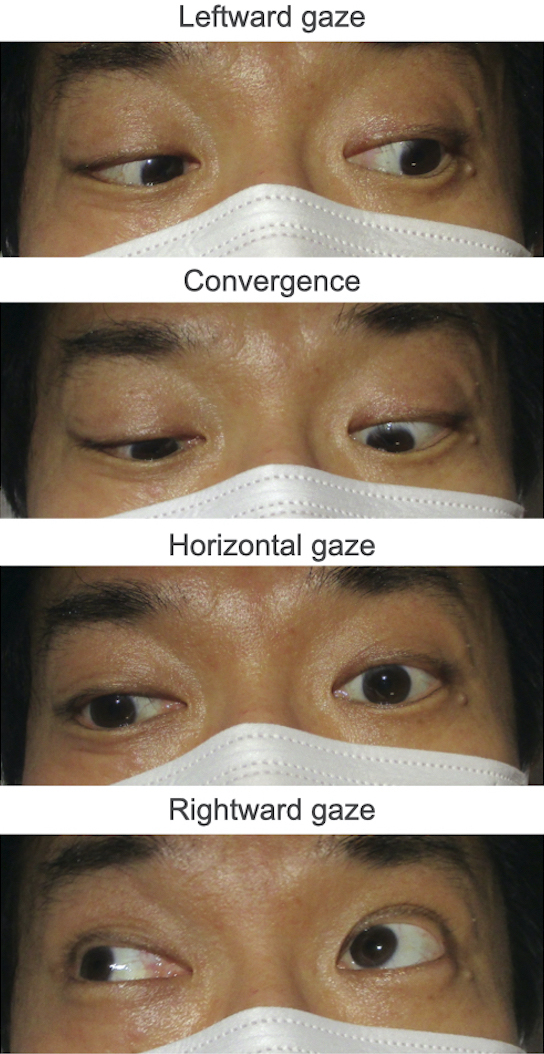 Figure 2.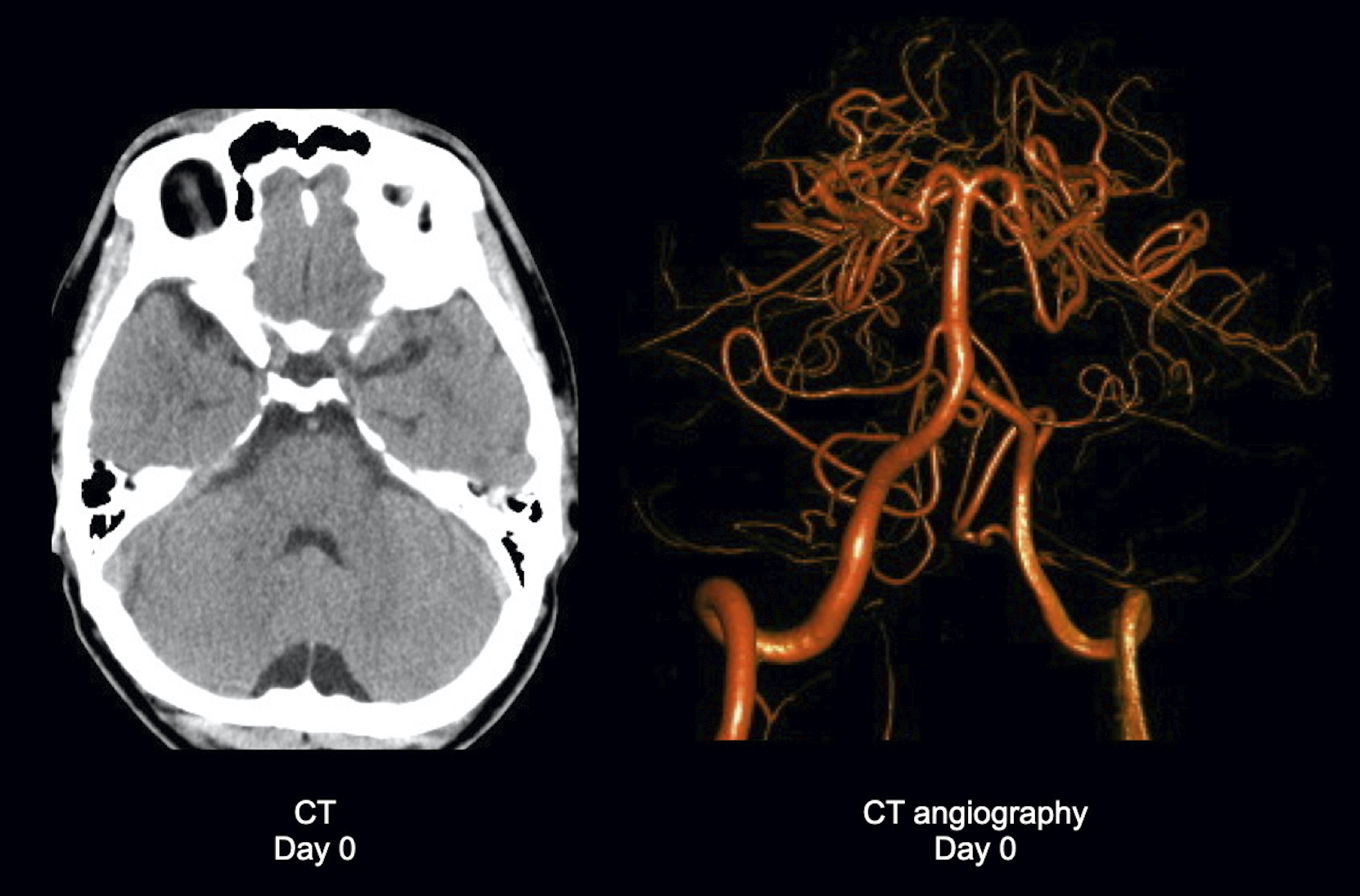 Figure 3.

Article Information
Conflicts of Interest
None
Acknowledgement
The authors would like to thank Enago (www.enago.jp) for the English language review.
Author Contributions
Conceived and designed the experiments: ST, SH
Contributed to interpretation of data: NT, MM
Approved the final version to be submitted: TJ
Informed Consent
Written informed consent was obtained from the patient for the publication of this case report and any accompanying images.
References
1.

Yonezawa A, Kakinuma C, Yoshizawa M, et al. MLF syndrome caused by a trivial head injury. Neurosurgical Emergency. 2021;26(1):111-7.

2.

Ueno Y, Honda S. A case of traumatic medial longitudinal fasciculus syndrome whose causal lesion was detected by thin-section MRI with susceptibility-weighted imaging. Case Rep Ophthalmol. 2022;13(2):368-73.

3.

Kim SS, Lee MH, Ji C. Unilateral internuclear ophthalmoplegia following minor head injury. Korean J Neurotrauma. 2022;18(2):329-34.