Images
Extremely Long Spinal Cord Infarction
Department of Neurology, Mitsui Memorial Hospital, Tokyo, Japan
Corresponding author: Daiki Yashita, daiki.yashita@gmail.com
DOI: 10.31662/jmaj.2023-0042
Received: March 7, 2023
Accepted: April 3, 2023
Advance Publication: May 22, 2023
Published: July 14, 2023
Cite this article as:
Yashita D, Hao A, Uchio N, Matsumoto H. Extremely Long Spinal Cord Infarction. JMA J. 2023;6(3):350-351.
Key words: spinal cord infarction, posterior spinal artery syndrome, longitudinal lesion
The patient was a 78-year-old woman who developed extremely long spinal cord infarction over one month. She had a history of hypertension and obesity. Neurological examinations showed complete paraplegia, diminished superficial sensation at the T2-L5 dermatome levels, diminished deep sensation of legs, dysuria, dyschezia, and positive Babinski signs. Laboratory, physiological, and imaging examinations did not show any findings suggesting vascular malformation, myelitis, embolism, or arterial dissection. On spinal magnetic resonance imaging, T2- and diffusion-weighted imaging showed hyperintensity lesions in the posterior and bilateral parts of the T2-L3 vertebral levels of the spinal cord (Figure 1, arrowheads). The length was equal to 13 vertebral bodies.
Figure 1. Spinal magnetic resonance imaging.
Sagittal T2-weighted imaging (T2WI) showed longitudinal hyperintensity from vertebral level T4 to the conus medullaris of the spinal cord (A). Axial images showed hyperintensity in the posterior part of the spinal cord on T2WI and diffusion-weighted imaging (DWI) (B-G arrowheads). T2WI (B, D, F). DWI (C, E, G). The vertebral levels of each image are as follows: T4 (B, C), T8 (D, E), and L1 (F, G).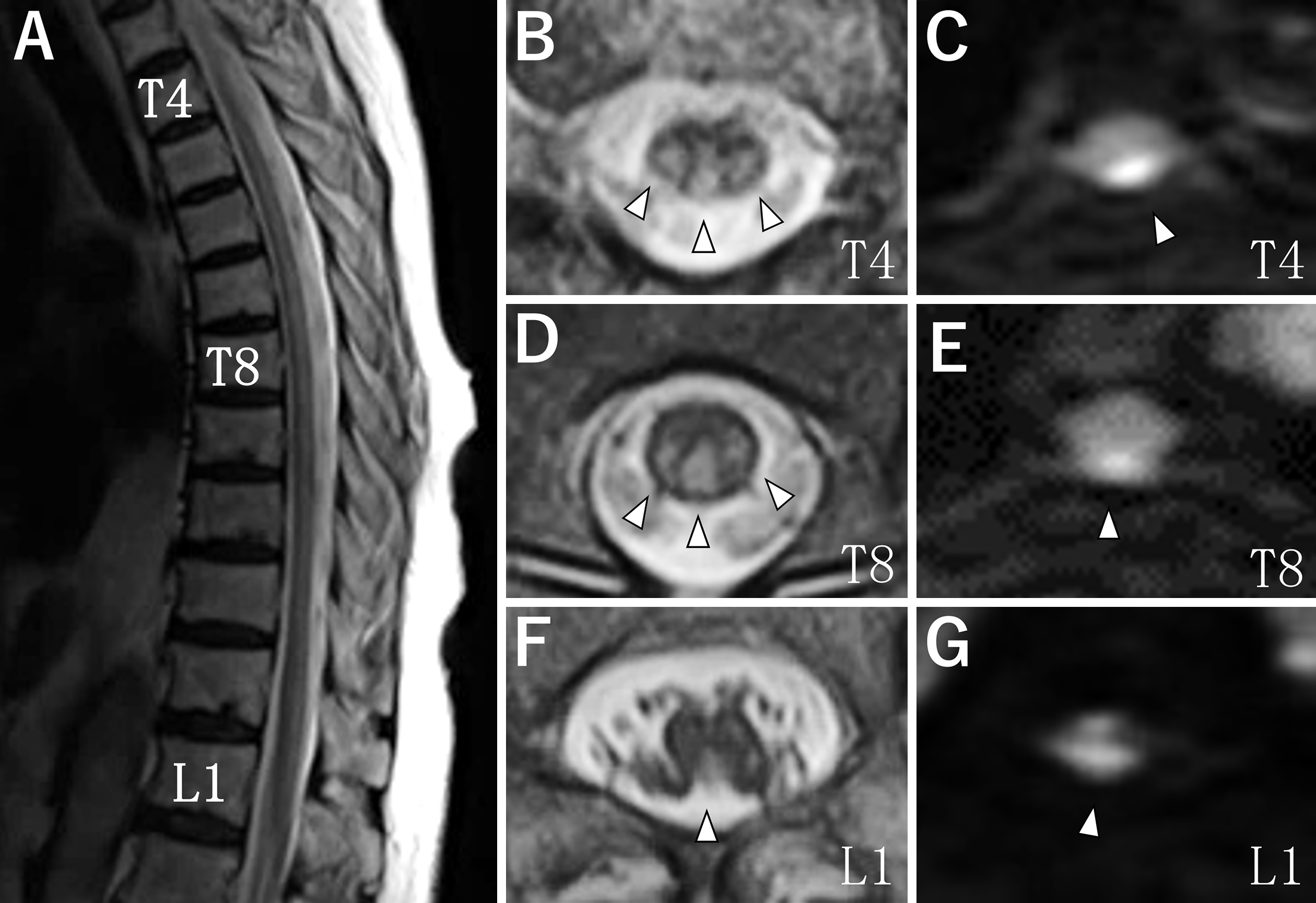 The average length of spinal cord infarction is reported to be approximately three vertebral bodies (1). Long spinal cord infarction has been rarely reported in posterior spinal artery syndrome (2), (3). Its rarity has been explained by abundant anastomosis between paired posterior spinal arteries (4). Recently, however, the great posterior radiculomedullary arteries longitudinally feeding the dorsal part of the spinal cord, similar to the artery of Adamkiewicz for the ventral part, has been identified in 72% of human spinal cord specimens: one unilateral artery 48%, two bilateral arteries 22%, and three unilateral arteries 2% (5). We speculate that the single, well-developed, great posterior radiculomedullary artery would be occluded by atherosclerosis. Based on the above discussion, we should consider spinal cord infarction, including posterior spinal artery syndrome, even when spinal cord lesions are extremely long.
Article Information
Conflicts of Interest
None
Author Contributions
DY wrote the first manuscript. AH, NU, and HM edited and approved the final manuscript.
Approval by Institutional Review Board (IRB)
IRB approval was not required for this study.
Informed Consent
Informed consent was obtained from the patient.
References
1.

Hsu JL, Cheng MY, Liao MF, et al. The etiologies and prognosis associated with spinal cord infarction. Ann Clin Transl Neurol. 2019;6(8):1456-64.

2.

Weidauer S, Nichtweiss M, Lanfermann H, et al. Spinal cord infarction: MR imaging and clinical features in 16 cases. Neuroradiology. 2002;44(10):851-7.

3.

Uppal S, Dash S, Sharer L, et al. Spinal cord infarction secondary to nucleus pulposus embolization in pregnancy. Mod Pathol. 2004;17(1):121-4.

4.

Rojas S, Ortega M, RodríGuez-Baeza A. Variable anatomic configuration of the posterior spinal arteries in humans. Clin Anat. 2018;31(8):1137-43.

5.

Perez Perez VH, Hernesniemi J, Small JE. Anatomy of the great posterior radiculomedullary artery. AMJR Am J Neuroradiol. 2019;40(12):2010-5.